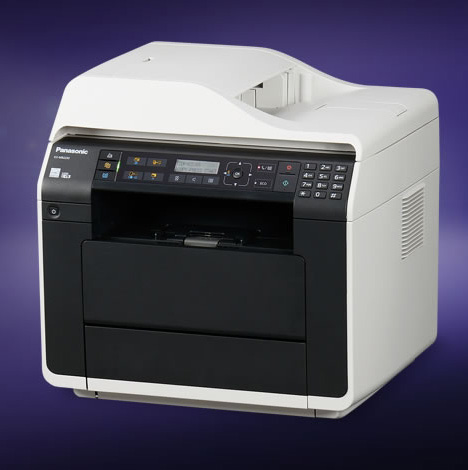 Description
The high-performance but compact KX-MB2230 multifunction printer boasts high-speed printing/copying of up to 28 ppm in both simplex and duplex printing, the highest speed in its class. It also comes with an automatic document feeder, which can load up to 50 pages for scanning in small-sized formats such as A5 or A6 in addition to the standard A4 format. An extra manual tray for special use allows you to feed one sheet of any size from A6 format to envelope or post card.

Quick duplexing
Printing on one side of a page can be wasteful and inefficient. That's why the KX-MB2230 features duplex printing capability. Conventional A4 size multi-function printers invert the pages one at a time, resulting in slow performance and poor productivity, the KX-MB2230 comes as standard with quick duplexing, making it possible to print both sides at virtually the same speed* as single-side printing.

*For all printers in the KX-MB2200 series, duplexing productivity is 100%.
A5/A6 compatible automatic document feeder
The KX-MB2230 is equipped with a 50-sheet automatic document feeder capable of handling the smaller A5 and A6 formats as well as A4. This capability is especially useful in doctors' offices and pharmacies where smaller documents are commonly used. It can also print onto the smaller A5 and A6 sizes.

500-sheet paper cassette
Usually compact MFPs designed to be used in small offices or home offices (SOHO) are equipped with a 250-sheet paper cassette, while commercial printing paper is normally supplied in 500-sheet packs. Despite its compact design and slim profile, the KX-MB2230 is equipped with large-capacity cassettes capable of holding a full pack of 500 sheets. So you can load all 500 sheets at once, and not have to leave open reams of paper lying around your office.

Eco mode
A dedicated ECO button is located on the control panel. When selected, the ECO button enables two energy-saving functions. First, the duration before the printer enters power save mode is set to one minute. At the same time the 2-in-1 and duplex copy modes are automatically set, effectively reducing both paper and power consumption.

Panasonic KX-MB2230 Multifunction printer
Specifications
• 28 ppm high-speed printing
• 28 ppm duplex printing/copying
• 500-sheet paper cassette
• Automatic document feeder
• Monochrome scanner and easy print utility
• Fax functions